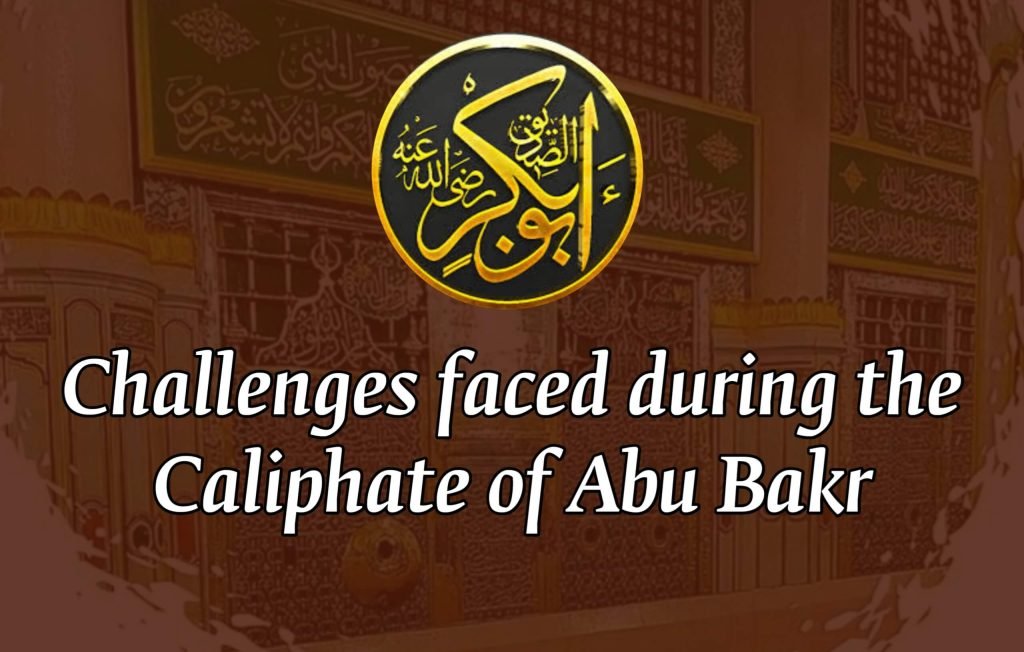 Challenges Faced During the Caliphate of Abu Bakr
Abu Bakr is the first Rashidun Caliphate. The duration of his caliphate was two years and four months. The death of Holy Prophet had led to countless revolts. Abu Bakr using his wisdom spent most of his time as caliph attempting to crush and defeat these revolts. No other caliph had to face as many challenges as Abu Bakr. The revolts emerged as the news of the demise of the Holy Prophet began to spread.
Mohammad Hussain Heikal writes in this regard:
It was very sensitive era. The news of the death of Prophet Mohammad spread like a wildfire in every part of Arab world. It is said that no other news had spread so fast in the history of Arabs. Every tribe and every town soon became aware of this heartbreaking news. 
What Impact the News of Prophet's Demise had on Arab?
One aspect of this news was that it was a time of distress and sorrow for the Muslims. As Abdul Rehman ibn Khaldun said:
"When the Holy Prophet passed away, everyone was bewildered and outraged in sorrow. All the Companions were in a state of distress. On the other hand, ferocious upheavals and fabrications began to emerge. This was the time when even a minor revolution may have resulted in enormous upheavals which may have continued till the Day of Judgement and erased Islam. (Tareekh Ibn Khaldun)
The Main Challenge Abu Bakr faced as a Caliphate
When Prophet Mohammad came to this world, he eliminated infidelity and unfaithfulness. This had concealed all the plots and tricks of infidels. Therefore, when Prophet Mohammad passed away the plots of these infidels came to the surface. It was then upon Abu Bakr to exterminate these infidelities and erase their existence from the root. Indeed, Abu Bakr performed this duty very well.
Abu Qasim al-Baghawi, Abu Bakr al-Safi in their booklets and Ibn Asakir narrates this from Aisha Bint Abu Bakr that when Prophet Mohammad passed away many upheavals arose, and many tribes became apostate.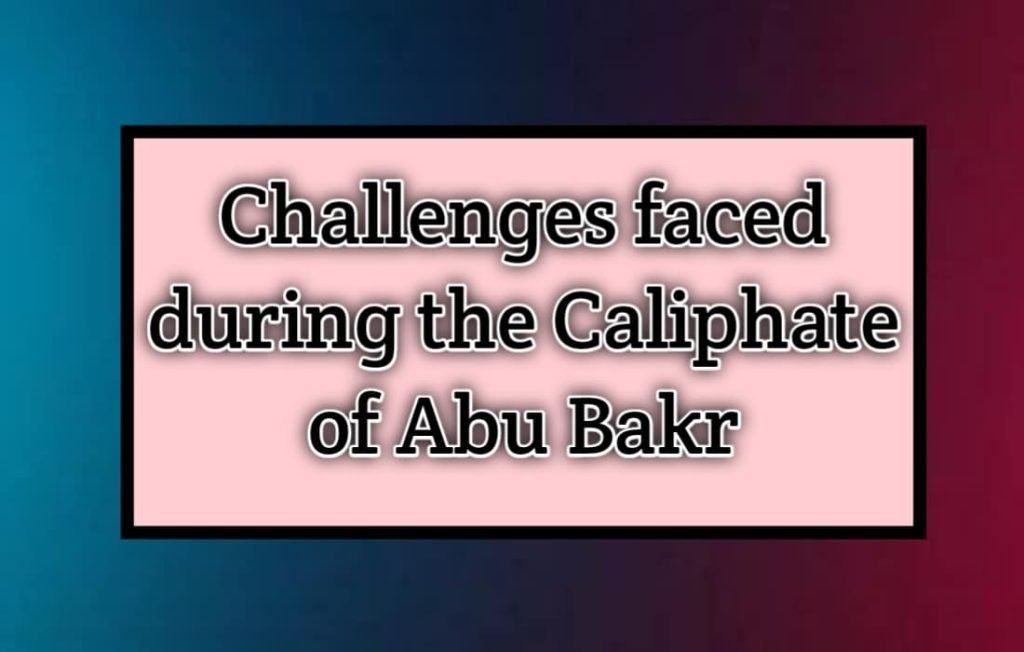 Jalaluddin Suyiti writes:
Several Arab tribes turned to apostacy when Prophet Mohammad passed away. (Tareekh al-Khulfa)
Abdul Rehman ibn Khaldun said:
Although almost all Arabs became apostate, several tribes lost their faith in Islam. The dark clouds of upheavals surrounded the sky. Also the anti-Islam winds were blowing in all directions and were polluting the hearts of Arab against Islam. Muslims were baffled as they were minority compared to the infidels. (Tareekh ibn Khaldun)
After the demise of Holy Prophet, the air filled with the aroma of renunciation of Islam and apostasy. As the news spread, the infidels begin to plot schemes. Also, this was the moment that Jews and Christians had been waiting for years.
Now, we discuss what was the effect of the news of Prophet's demise in different areas.
Condition of Makkah After Prophet's Demise
Makkah is the sacred place where not only Prophet Mohammad was born but also declared his prophecy. Also, Allah blessed Prophet Mohammad with the first revelation in Makkah. Regardless, as soon as the news of Prophet's demise spread in Makkah, its condition begin to disrupt. One can imagine the chaos in Makkah from the fact that Attab ibn Syed who was the ruler of Makkah and appointed by the Holy Prophet, went undercover after being perplexed from the upheavals in the city. When the situation got worse, Suhayl ibn Amr gathered Muslims and addressed. Regarding this address, Mohammad Hussain Haikal in his book, 'Abu Bakr', says the following:
Address of Suhayl ibn Amr:
"Allah has taken upon Himself the protection of Islam in Makkah. Suhayl ibn Amr, a Companion in Makkah, when saw the disbelief in Muslims, he gathered them, talked to them about the demise of the Prophet and then said:
"Remember! Whoever doubts the truthfulness of Islam and follows the path of apostate shall prepare himself for death."
This was a big threat from Suhayl ibn Amr to Makkah. The reaction to this threat could have been worse and may have turned the tables against him so he continued his address and further said in a soft tone:
"No one should worry, Islam is an eternal religion and will last forever. It will neither weaken nor can anyone hurt its integrity." (Abu Bakr)
The address of Suhayl ibn Amr left a strong impact on the people of Makkah and reinstated their belief in Islam."
Bani Saqifah was the clan of Taif who accepted Islam very late. When the head of this clan saw the faith of the people of Taif wavering from Islam, he gathered everyone and addressed in the following words:
"O sons of Saqifah! You were the last in accepting Islam. Do not be among the first ones to apostate."
This address was so impactful that the people of Taif gave up the idea of renouncing Islam.
This is the condition of the places where Prophet Mohammad had not only spent life and preached Islam, but their people had witnessed the morals of the Prophet. To say the least, these people were not just aware of the soul of Islam but were familiar with the status of the Companions. Regardless, if these places were wavering in ocean of doubts, then just imagine what would be the condition of the places far off from Makkah and Madina.
Oath of Allegiance to the Caliphate
The first challenge after the death of the Holy Prophet was to determine who will be his caliph. Sultan-ul-Ashiqeen Sultan Mohammad Najib-ur-Rehman in his book, The Rashidun Caliph, writes:
"After Prophet Mohammad passed away, different tribes of Ansar and Quraish started expressing their eligibility for succession in coated words. A group of hypocrites also wanted to be a part of it. At the time, had this sensitive issue of Caliphate not been addressed, it could have resulted in disputes and wrangles." (The Rashidun Caliph)
Upheaval of Bani Saqifah in Caliphate of Abu Bakr
Regarding this Ibn Khaldun states:
In Bani Saqifah another upheaval (about electing caliphate) arose which was worse than anything else at the time. On this occasion Abu Bakr acted with much wisdom and intellect. All credits to him that he according to the will of Holy Prophet, after delegating the task of Prophet's burial to Bani Hashim, went to Saqifah along with Umar and other highly ranked Companions. There, he put an end to any and all upheavals in this regard which if not stopped would have resulted in the omission of Islam from the globe. (Tareekh Ibn Khaldun)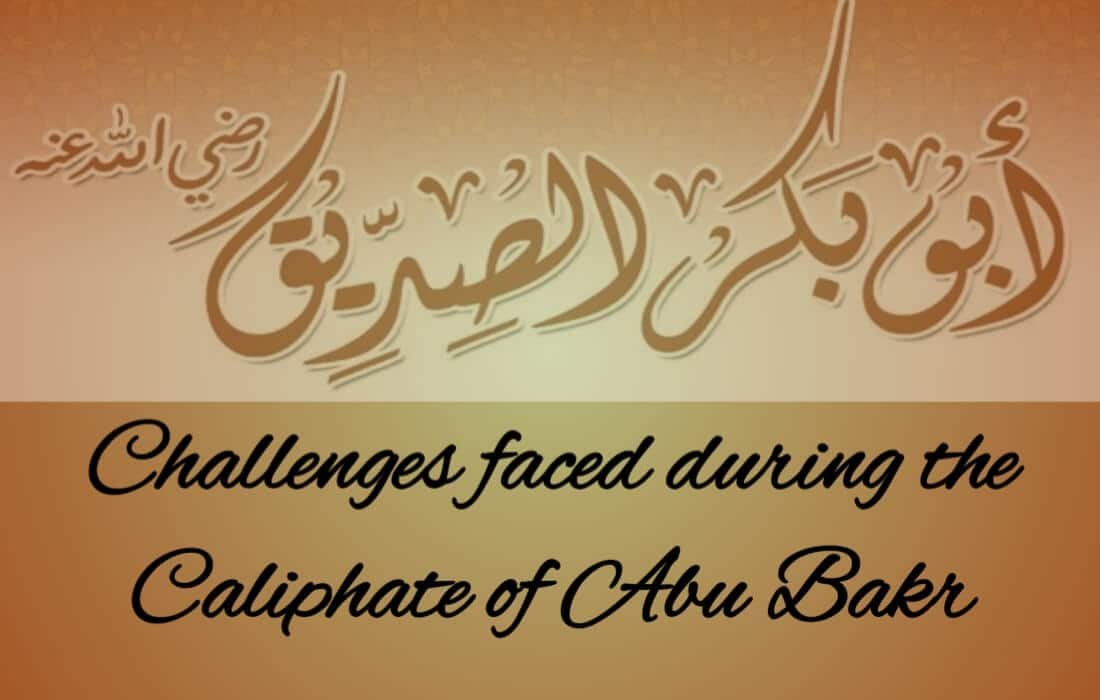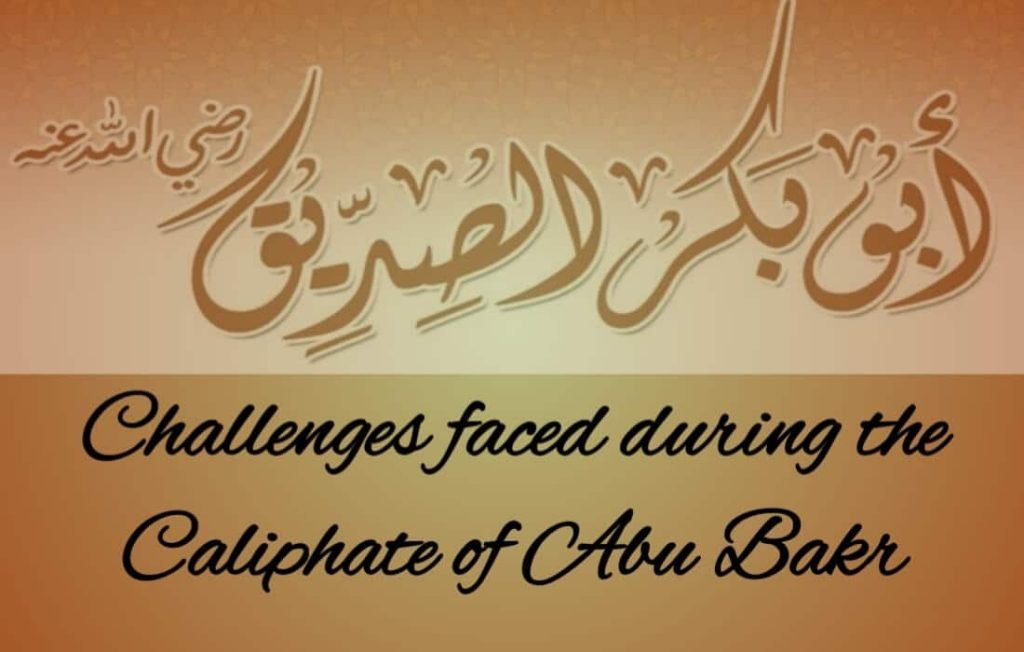 Why was Abu Bakr elected as First Caliphate?
After Prophet Mohammad passed away different tribes of Ansar and Quraish started expressing their eligibility for succession in coated words. A group of hypocrites also wanted to be a part of it. At the time Quraish also brought up their ancestral superiority and connection with the Prophet. Therefore, the debate on choosing the Caliph was getting controversial.
Abu Bakr handled this tendentious issue quite wisely, and politely told the people that services and significance of Ansar and the sacrifices of the immigrants were very worthy. However, this fact was certain too that Arabs would not bear the leadership and sovereignty of anyone other than the family of Quraish. The immigrants are important being the leading ones in embracing Islam and the family members of the Prophet have their own significance. Hence, Muslims can take oath of allegiance at the hands of either Abu Ubaida ibn Jarrah or Umar ibn Khattab. On hearing this, Umar gave his hand in the hands of Abu Bakr and said, "You are the most pious and the best amongst us and dearest to Prophet Mohammad, so we take oath of allegiance on your hands."
No one showed any apprehension on Umar Pledging allegiance to Abu Bakr. In fact, people in large groups started taking oath of allegiance immediately. (The Rashidun Caliphate)
What Happened when Abu Bakr became Caliphate?
If we pay close attention, we will realize that the matter of oath of allegiance on the hands of the elected caliph was very sensitive and attention worthy. It may have taken any turn. Abu Bakr handled it very wisely and took calculated steps which saved the Muslim umma from the biggest split. It is by virtue of Abu Bakr that Muslims remained united after the shattering news of Prophet's demise.
Had Abu Bakr not wisely handled the situation then who would have ceased Umar from emotional addresses, who would have picked up the sacred head of Prophet Mohammad from the chest of Aisha (when Prophet Mohammad passed away, his sacred head lied on the chest of Aisha), who would have resolved the dispute between the Ansar and the immigrants in Saqifah! Those who know these incidents must understand that Abu Bakr gets all the credit of handling the delicate situations and matters very well after Prophet Mohammad's death. (Tareekh Ibn Khaldun)
Denial from Making Madina the Capital State
The hypocrites argued that Prophet Mohammad had neither appointed his caliphate nor there are any instructions in Quran which signal towards making Abu Bakr as the first Caliphate. They further argued that Holy Prophet in his life had allowed tribes to be independent in their matters. Now their demand of seeking autonomy is fair and square. Regarding this matter the hypocrites presented several arguments and justifications.
The hypocrites presented different justifications and used Bahrain and Qeydar as reference. They said that when those countries were conquered and their governors when accepted Islam, Holy Prophet let them keep their post and did not replace them. Similarly, if we elect someone the ruler of our state then how can someone object, as long as the ruler is the follower of Islam. (Abu Bakr)
These hypocrite tribes neither accepted the leadership of Ansar nor the Immigrants rather they stated that they were the followers of Islam just like them. They further said that they were better than them just because of more education. Therefore, they had right just to become their teachers. They added: "We cannot allow them to rule over us."
Objection on the Decision of the Prophet
Prophet Mohammad in his life had prepared troops with the intention of sending them to conquer Rome. He had appointed Usama ibn Zayd as the commander of the troops. These troops had yet not taken off that Holy Prophet passed away. Several people doubted the potential of Usama ibn Zayd as he was young and inexperienced. Sultan-ul-Ashiqeen in this regard says in his book:
"People suggested Abu Bakr to postpone the plan of sending troops for now, but he had different opinion. He rather decided to continue the march and said, "I cannot stop the orders of the Prophet." It is said that while sending the troops he walked a long distance with them in order to show support. Hence, this troop reached its destination under the supervision of Usama ibn Zayd." (The Rashidun Caliphate)
The tribes which were far off from Makkah and Madina had completely renounced Islam. Additionally, the tribes which meet borders of Rome in the North of Arab were also influenced by the Christians because of which they also became apostate. On the other hand, the tribes who were on the Southern side of Arab, by the border of Iran, interacted with Zoroastrians because of which they also renounced.
Regarding this Jalaluddin Sayoti says:
Umar ibn Khattab relates that when Prophet Mohammad passed away, several tribes of Arab renounced Islam and said that we will offer salat, but we will not pay zakat. On hearing this, I went to Abu Bakr and said, O Caliphate of Prophet! Be lenient with these people. Abu Bakr replied, I Swear to Lord! I will fight with them until I have sword in my hand. Even though in return I get zakat equivalent to the rope of camel. (Tareekh al-Khulfa)
Challenge of Collecting Zakat in Abu Bakr's Caliphate per Sultan-ul-Ashiqeen
Sultan-ul-Ashiqeen in this regard in his book says:
Many wealthy Muslims refrained from paying zakat. This problem became so crucial and momentous that even a reliable and trustworthy person like Umar had to say, "O Abu Bakr these people must be handled politely, you may want to approach them differently."
In response to this he said, "O Umar! You are very strict in Islam, how come you are so infirm now! Allah has fulfilled His promise and His will has been implemented. Now you cannot change it. I Swear to God! I will not hesitate to fight if I need to get zakat equivalent to even a small piece of rope." It is a fact that Abu Bakr stayed true to his words for the rest of his life. (The Rashidun Caliphate)
Per Mohammad Hussain Haikal:
"People called zakat a form of tax and said this tax must be collected from the Non-Muslims. We are Muslims, we should not have pay tax. We are Muslims just like the Muslims of Madina. Why should we pay zakat to the ruler of Madina!" (Abu Bakr)
"The Abasa and Zeeban tribe got infuriated. Abasa, Abruq and Zeeban gathered in Dhul-Qasya. Few people from the tribes of Bani Asad and Bani Kinanah also accompanied them. Collectively they decided to send a group of people to Abu Bakr for negotiations. They presented their request of offering fewer salat and exemption from zakat. Abu Bakr in response replied, Swear to Allah! I will fight with them even if I need to collect zakat from them equivalent to the piece of rope. Also he will not spare leniency of even one rakat in the five salat of the day."
The disappointed apostate went back and made other Muslims aware of Abu Bakr's response. The Abasa and Zeeban were ecstatic to hear the news as now they had a reason to attack Madina. Therefore, without any hesitation they attacked Madina but all in vain. As Abu Bakr had already prepared to respond in anticipation of their attack. (Tareekh Ibn Khaldun)
Claim of False Prophethood in Caliphate of Abu Bakr
After Prophet's demise when Abu Bakr was busy dealing with the people who were in denial of paying zakat, Musaylimah was busy plotting his claim of erroneous assertion of Prophethood. He succeeded in influencing so many people that he managed to make an army consisting of forty thousand soldiers. Things got so out of control that his soldiers started killing people denying his prophethood.
Reference from The Rashidun Caliphate
Sultan-ul-Ashiqeen, regarding this disruption says:
"Right after Prophet Mohammad passed away a few fabricators in Arab claimed false Prophethood. Aswad, Musaylimah and Sajjah had an erroneous individualized assertion of Prophethood. Sajjah was a Yemeni woman who also falsely claimed Prophethood. This discoid of claiming false Prophethood was very lethal and devastating to Muslims, hence, Abu Bakr had all his focus towards eradicating. He sent Muslim troops in set directions. Out of all the fraudulent prophets, Musaylimah-the great liar, was the strongest. For his demolition Khalid ibn Walid fought a battle against him and crushed him." (The Rashidun Caliphate)
Reference from Tareekh Ibn Khaldun
Regarding aforementioned event, Ibn Khaldun states:
During the life of Prophet Mohammad, Taliha renounced Islam and settled in Sameera. He was a magician and had erroneously claimed false prophethood. Few clans of Bani Israel started following him. Prophet Mohammad had sent troops to crush his evil intentions. The Muslim troops had not succeeded yet that the news of the death of Holy Prophet came. Which added fuel to evil intentions of Taliha. The Ghatfan and Hawazan and Tay also became his supporters. Khalid bin Waleed stepped forward to crush them but before that Adi ibn Hatim from the Tay tribe came for negotiation because of which the people of Tay tribe decided to separate themselves from Taliha and entered the circle of Islam. (Tareekh Ibn Khaldun)
A Woman Claiming False Prophethood in Caliphate of Abu Bakr
Similarly a women claimed to be prophet. She had married Musaylima-The great liar. Musaylima in marriage settlement had agreed to spare two salats to her followers. Sajjah and his followers also fought battles against Muslims.
The news of the apostasy of Arabs came quite often. The situation got bad to an extent that with the exception of the Quraysh and Saqifah tribe, all or most tribes of Arab renounced Islam. This strengthened the intentions of Musaylimah. Taliha had the support of Tay and Asad tribe. The main people from Bani Saleem also renounced Islam. (Tareekh Ibn Khaldun)
In short, the Muslims in this distressed situation were in minority and the apostasy of Arab had all united against them. In this challenging time, Abu Bakr was unwavering and resolute against anti-Islam forces and eliminated them for never to arise again.
Danger from External Forces in the Caliphate of Abu Bakr
At the time Romans and Persians had very strong empires. The fast and continuous spread of Islam could shake their empires. They were afraid of the downfall of their rule if majority of their people also started converting to Islam. Therefore, they not only supported the Arab apostasy but also prepared massive troops against Muslims. Regarding this, Sultan-ul-Ashiqeen says:
It was the era when the superpowers of the world, Roman and Persian Empires had made plans to harm Islam. The Persians who had ruled over Arabs for centuries, could not bear that the Arabs residing in desert become strong with robust military and be a continuous jeopardy to their rule. (The Rashidun Caliphate)
The article is English translation of the Urdu article, Hazrat Abu Bakr k dur mei uthnay walay fitnay, penned by Sultan Mohammad Abdullah Iqbal. Miss Fatima Noor Sarwari Qadri has translated it into English with minor changes.