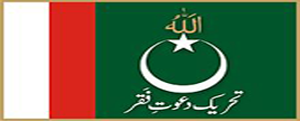 Tehreek Dawat e Faqr Monthly News June 2019
The love of

spiritual guide

is a blessing only bestowed upon the lucky seekers of Allah. In company of the spiritual guide, a seeker receives beneficence, gets his soul purged and his heart cleansed. So as to keep up with this system, Sultan-ul-Ashiqeen used to visit the main

khanqah

after ever Zuhr prayer till 3pm on Sundays to meet the seekers of Allah. People from all over the country kept visiting and gaining his blessings.
They made arrangements for

Sehr

and Iftar for all seekers throughout the month of Ramadan. People from faraway places stayed in Khanqah and experienced blissful moments. They offered

prayers

in the lead of Maulana Mohammad Aslam plus the additional tarawih.
The members from invitation and

preaching

department including M. Arshad Ramzan, M. Zulfiqar, M. Zaheer, M. Sajid, M. Azeem, M. Farooq Zia, and Maulana Aslam delivered speeches on various topics of

Faqr

. Hence, increasing the intensity of the love in the present seekers' hearts. Other than people from the Khanqah, a ton of outsiders too took part in this gathering which was shown live on Facebook, viewed by a lot of followers and newbies.
On 12th of May, 2019, Sultan-ul-Ashiqeen held a meeting with the

Sultan-ul-Faqr Publications department

. In this meeting they exchanged fruitful ideas discussing betterment of the monthly magazine as well as the books.
On 12th of May, 2019, head in charge of department, Web promotion, M. Abdullah Iqbal held a meeting in the main office. He informed the members about the performance of this specific department and briefed them as to how it should be improved further.
The spokesperson of

Tehreek Dawat-e-Faqr

,

Ali Raza

took a leave of one month due to his private matters. On 14th of May, Wednesday, the management transferred this position to

Waseem Akram

who was previously the president of the general council. And made

Nasir Majeed

the new president as a replacement.
On the 17th of May, the management held a meeting with the members of khanqah. They declared

Mohammad Arshad Ramzan

the head of invitations and preaching department as well as in charge of the training course. Zaheer Ahmed and Mohammad Zulfiqar were appointed as the deputies in charge of invitations department.
Throughout the month of

Ramazan

, the core management kept holding meetings with various departments of the khanqah so as to keep check and balance on their performance.
On 19th of May, management conducted a meeting with the office holders of Tehreek Dawat-e-Faqr from Mandi Buchiana, Faisalabad. They welcomed the new office holders and briefed them about the rules and

regulations

of the organization. They explained ways to increase among people the beneficence of

Ism-e-Allah Zaat

. In addition, they also discussed ways to improve their organizational activities in the area. They listened to issues faced by each department and made sure their problems were taken care of.
On the same day, an important meeting with the security team also took place. The chief organizer,

Naeem Abbas Khokhar

stated that the members should proceed with their duties with concentration and unity. Considering the rising temperatures, they considered changing uniforms of security team.
Also, the heads of

Social media

,

Waqar Ahmad

and

Dr. Wasim Akram

held a meeting critically analyzing their Ramazan policy. Social media department is using all international platforms to spread the word of

Faqr

throughout the world including

Facebook

,

twitter

,

WhatsApp

,

LinkedIn

,

Pinterest

,

reddit

and

Instagram

et cetera. They spread light on training of new members. Trainings sessions are still being held under the guidance of head in charge,

Dr. Hasnain Mehboob

.
Gathering in memorial of Hazrat Ali
On 21st of May on the account of martyrdom of

Ali Ibn Abi Talib

, khanqah held a gathering under the supervision of

Sultan-ul-Ashiqeen

.
Nasir Majeed began the event by the recitation of the

Holy Quran

. 
In respect of Hazrat Ali,

Ata-ul-Wahab

recited a beautiful encomium highly appreciated by the people present.
Member of the invitations department, Maulana Mohammad Aslam delivered a heart touching speech in honor of Hazrat Ali.
Mohammad Farooq Zia brought the program to an end by making

prayer

to Allah.
After this,

Sultan-ul-Ashiqeen

blessed those seekers of Allah with the opportunity to swear

allegiance

to him. He also provided them with

Ism-e-Allah Zaat.

All the attendees got the chance to meet and greet Sultan-ul-Ashiqeen. He met them all individually and at the end made prayer for them all.
Meetings for welfare of Khanqah
On 26th of May, vice president of Tehreek, Sahibzada Murtaza Najib held a digital productions meeting. He mentioned how uplifting activities of the Tehreek requires harder work of the department. To further enhance the success of this department, he also announced introduction of a

cinematic

team. Furthermore, he directed to bring about more

technological

advancements

. To make it successful, he made it clear how significant it is for every member to take his duty seriously. After immense success of video editing sessions, he announced a new photography and

videography

training session.
The same day, another meeting of the social media wing also took place. Dr. Hasnain Mehboob supervised in which they discussed its future activities. Moreover, he stated how necessary it is to start working on other social media platforms rather than Facebook and twitter alone.
On 29th May, 2019 Majlis-e-Shura of Mandi Buchiana held a conference in

Buchiana

. They shed light on Faqr, Sultan-ul-Ashiqeen and the significance of Ism-e-Allah Zaat. Additionally, they discussed fund raising. In this event superintendents Qadeer Iqbal, M. Yaqoob, M. Ashiq and others were present.
1st Shawwal, 5th June, 2019, Wednesday
Eid ul Fitr is a glorious gift to Muslims from Allah. The entire Muslim Ummah observes fast during this month so as to gain Allah's pleasure. As a present for this good deed, Muslims celebrate Eid on the 1st of Shawwal.
Eid for the seekers of Allah is solely the glorious vision of their spiritual guide. So, keeping this in mind Tehreek Dawat-e-Faqr arranged a function to celebrate Eid. This function was held in the Sultan-ul-Ashiqeen House. In the management all members and departments showed love and keen interest towards their duties.
Sher Ali (joint secretary) and M. Ameer Hamza made the arrangements of food a day prior to the actual event.
Zahid Iqbal, Sadiq Ahmed, Ameer Hamza and Nazeer Ahmed acquainted Zulfiqar Raja in the preparations of food on the day of Eid. All brothers worked together in harmony to present delicious food to the attendees.
Details of the gathering:
The event took place in the khanqah after

Maghrib

prayer. The successors of

Sultan-ul-Ashiqeen, Sahibzada Murtaza Najib

and

Dr. Hasnain Mehboob

were present in the khanqah before his arrival. People from all over Pakistan travelled across the country to greet him on Eid and get to see him to make their Eid worthwhile. Each person seemed restless to just get a

glimpse

of Sultan-ul-Ashiqeen.
The time had finally come. Sultan-ul-Ashiqeen looking all glorious entered the khanqah with full charm. On his arrival, every person felt bliss at heart and started the zikr of Ya Hoo. To welcome him, Mohsin Raza Sultani recited an enchanting encomium melodiously, brightening up the vibe of this event.

Sahibzada Murtaza Najib, Dr. Hasnain Mehboob,

and

Malik Naeem Abbas

welcomed Sultan-ul-Ashiqeen presenting him a flower bouquet. The entire crowd began chanting to praise the great personality.
He greeted every individual one by one, hugged them and enlightened their hearts with love and

faith

. Even after the greeting ended, crowd continued with the

beautiful chants

.
The event officially began with the recitation of the holy Quran by Maulana Mohammad Aslam. This imbued a sense of serenity in the ambiance.
خدا کا ذکر کرے، ذکرِ مصطفیؐ نہ کرے
ہمارے منہ میں ہو ایسی زباں خدا نہ کرے
Meaning: May God not give me such a tongue that praises Him and does not praise His prophet.
Mohsin Raza Sultani recited an encomium to praise the Prophet.
"With whom would I share the condition of my heart when you are there"
So beautifully he expressed the state of his heart through an encomium. The crowd enjoyed it all along. Then Ata ul Wahab presented an encomium for the Sultan ul Ashiqeen. It went like
"having a look at your glorious face feels like Eid to me".
Right from the beginning of this encomium everyone started to sway with delight. They started chanting
"Long live Sultan-ul-Ashiqeen".
Atta ul Wahab read a heart touching verse in honor of Sultan ul Ashiqeen to which the entire crowd began chanting again to praise him.
Towards the end of the event, Sultan ul Ashiqeen thanked each person to have joined. He prayed for them that may Allah bless them with Divine Love and rid them of their inner self diseases.
He shared a memorable incident:
"This year we visited south Punjab and Sindh. So, in a gathering at Dr. Shakeel's residence a small boy kept coming to me again and again. I asked him what does he want to become when he grows up. Whether he desires for a high status in this world. To which the kid replied, "No." then I asked so what do you want? He said I want to become a lover.  Then Sultan ul Ashiqeen prayed that may Allah make him a lover. Moreover, he prayed for everyone so Allah makes them all His lovers.
After greeting them all he departed to Sultan ul Ashiqeen House where a gathering for females had been organized. After he left, they made arrangements for food. Everyone enjoyed having the food and appreciated the management. After this all the attendees thanked and bid farewell to the management.
On 9th of June, Sunday, Sahibzada Murtaza Najib supervised a meeting for Sultan ul Faqr Digital Production at the Khanqah. The management of Tehreek Dawat e Faqr were also present. To enhance the outcome of Sultan ul Faqr Digital Productions they were divided into three sub SFDP. They have three official channels on each Facebook, Twitter, Dailymotion, IGTV, Web Tv which namely are Sultan-ul-Faqr.tv, Sultan-Bahoo.tv and Sultan-ul-Ashiqeen.tv. Each channel was handed over to one team which was implemented after the approval of management. May Allah give them the capability to take forward the work of our Tehreek. Ameen.
On the same day, food department also held a meeting. Dr. Abdul Haseeb Sarfaraz was designated as the head in charge. May Allah give him the ability and desire to fulfill his duty wholeheartedly.
On the 10th of June, Monday Sultan ul Ashiqeen called for a meeting with the management committee. Sahibzada Murtaza Najib along with the members of Digital Productions Video Editing were also present.
Sultan ul Ashiqeen advised them to work with full potential and motivated them. Also, he gave them ideas as to how they could better their work. And also, he guided the food department with their development.
On the same day, Sahibzada Murtaza Najib had a discussion at Khanqah regarding the six stages of divine descent. The management of Tehreek Dawat e Faqr and other people at Khanqah were also present.
Tehreek Dawat-e-Faqr News from all over Pakistan
Tehreek Dawat e Faqr, Haroonabad, Bahawalnagar District
On 23rd of May, 2019, Sultan-ul-Faqr Publications stall was set in Jamia Mosque Gulzar-e-Madina in Muslim Colony. As usual, people not only liked the book but bought them a lot. They were told that path of Faqr is in fact a journey of self realization.
Tehreek Dawat-e-Faqr Kala Gujran Jehlum
On 23rd May, 2019, Sultan ul Faqr Publications set up a stall in Jamia Mosque Kala Gujran. People loved the books and bought them in large amount.
Tehreek Dawat e Faqr Pindi Gheb, Attock District
On 23rd May Sultan ul Faqr Publications arranged a book stall at Jamia Mosque Hifza in Sipial Village.
Tehreek Dawat-e-Faqr Islamabad
On 17th of May, Friday, 2019, a book stall was set up in Sardaran Mosque. Other than these stalls, books by Sultan ul Faqr publications are available at different stores in different areas.
All these activities only amount to inviting people towards the path of righteousness.