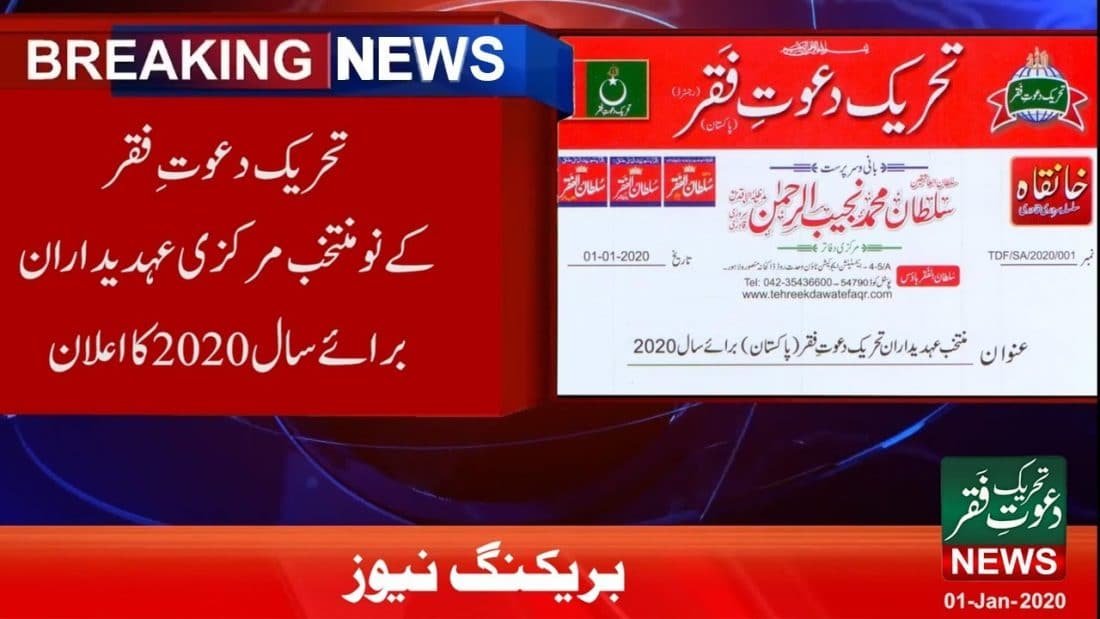 TDF Central Office Holds "Oath Taking Ceremony" for the Newly Elected Members
(Press Release, Lahore) Wednesday 01 January 2020
The election results for office bearers at the Tehreek Dawat-e-Faqr (TDF) Central Office have been announced. As per article 9-A of the TDF constitution, the Administrative Committee and the Parliament members are elected through elections every year. The elections run from 1st December until 15th December. As a result of this year's elections, the below members have been elected for the year 2020:
| | | |
| --- | --- | --- |
| 1 | Head Administrator | Malik Mohammad Naeem Abbas Khokhar |
| 2 | President | Saeed Jaafer |
| 3 | Vice President | Nasir Hameed |
| 4 | General Secretary | Abdul Haseeb Sarfraz |
| 5 | Joint Secretary | Shair Ali |
| 6 | Spokesperson Tehreek Dawat-e-Faqr (Internal) | Waseem Akram |
| 7 | Spokesperson Tehreek Dawat-e-Faqr (External) | Hafiz Hammad-ur-Rehman |
The chairperson of Tehreek Dawat-e-Far, Sultan-ul-Ashiqeen Sultan Mohammad Najib-ur-Rehman on Wednesday, took oath from the newly elected members at the central office of the organisation.
Sultan-ul-Ashiqeen arrived at the Khanqah at 8pm for the oath taking ceremony. He was warmly welcomed by the devotees present in the Khanqah. Deputy chair of TDF, Sahibzada Sultan Mohammad Murtaza Najib accompanied him.
Whilst compering the ceremony, Ahsan Ali Sarwari Qadri welcomed Sultan-ul-Ashiqeen and Sahibzada Sultan Mohammad Murtaza Najib. In order to begin the proceedings of the ceremony, he requested Maulana Mohammad Aslam to recite few verses from the Holy Quran.
Following that, Sultan-ul-Ashiqeen announced (election results) the names of the newly elected members of the Administrative Committee and the Parliament. The head of TDF congratulated the elected members. During his short address, Sultan-ul-Ashiqeen highlighted the aims and objectives of Tehreek Dawat-e-Faqr as well as briefed the newly elected member on their duties and responsibilities.
He then formally took oath from all the members. Following which he discussed key issues with the members and then departed from the Khanqah.